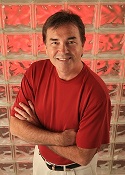 Jeff Imboden, Jaggy Jeff®, started with D & H Media, Inc. in 2003 as the night DJ on the Top 40 station J-98.5-FM, then eventually moved down the hall to the AM studio, where he produces and hosts the popular afternoon show on Good Time Oldies 1450/107.9 KOKO 1pm-6pm Monday-Friday. His show is also on the internet, as well as on the free mobile app Tune-In Radio and on Amazon Alexa as a free skill.
Jeff is a professional musician who has been privileged to perform in many different venues, including his own restaurant, Jaggy's Supper Club, and genres, from solo work, to jazz, country and rock groups and Big Bands, including the UCM Big Band, the KC group The Moonlight Serenaders, the Warrensburg Community Band and the popular Kansas City cover band, the T. Ross Band. His claim to fame is performing as a back-up singer for Kenny Loggins during his Midwest tour in 2007 at Harrah's Casino in Kansas City.
Jeff is a Professional Voice-Over Artist, having recorded ads, jingles, On-Hold Messages and Public Announcements. Samples of his work can be found here and on his Audio Page.
And now, for his name. 1 of the owners of the stations gave him his alter ego name. Jeff used to drive an old Jaguar, so the owner thought he'd be cute and use it with his new DJ name. Jaggy Jeff® was born, and it stuck. Hey, it's fun. People call him out on the street, and he answers. He'll pretty much answer to anything.
You can find out a lot more about Jeff, as well as see photos and videos and more, on his website, www.JaggyJeff.com. He also writes an irregularly scheduled Blog/Advice Column, "What Would Jaggy Jeff® Say?" where he shares his random thoughts and you can ask advice.